About our ethnic balance
We are publishing our Ethnic Pay Gap Summary ahead of the anticipated Government legislation which would make the sharing of this information mandatory.
We have made the decision to do this because, more than anything, we want to be open and transparent. In addition, by committing to publish our Ethnic Pay Gap Summary annually, we will be better placed to identify trends and track progress being made across the Rail Delivery Group (RDG).
2020 is the first year we have published this information. Currently there is no standard approach, so we've compiled it in accordance with Government regulations for calculating gender pay gaps.
The ethnicity pay gap is the average difference in hourly rate of pay between White employees and their Black, Asian and Minority Ethnic (BAME) colleagues.
What our data is telling us
Our overall ethnicity split of 79% /21% White to BAME, is quite different to the working population of the UK which, according to the Office of National Statistics (ONS), has a White/BAME split of 87%/13% across the UK.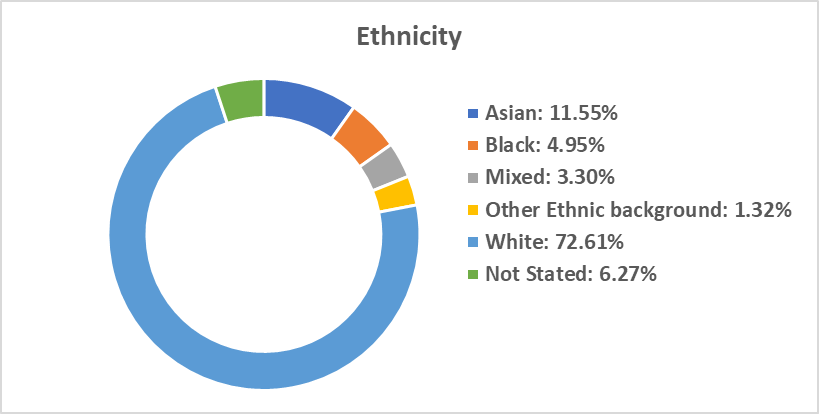 Ethnicity pay gap
On average, BAME employees are paid 18.51% less than their white colleagues, with a range of 12% to 32% across the BAME categories.
| Ethnicity | Mean (average) | Median (middle) |
| --- | --- | --- |
| Asian | 12.04% | 7.85% |
| Black | 21.59% | 32.91% |
| Mixed | 32.44% | 40.07% |
| Other | 16.94% | 10.53% |
| BAME | 18.51% | 10.53% |
Our median ethnicity pay gap is 10.53%, which is higher than the UK average of 3.8%. The median is most representative measure of an "average" employee as it negates high and low outliers in a data set, that would normally skew the mean.
The biggest contributing factor to our ethnicity pay gap is the under-representation of BAME employees in senior roles.
What we are doing to close the gap
There are a range of initiatives already underway at RDG, but we fully recognise the need to do so much more. We are working to see better representation in leadership positions at RDG and will be doing this by nurturing the great talent we already have, as well as focusing on attracting a greater diversity of candidates to work with us. We have already begun to do this through providing secondment opportunities and upskilling our managers on good EDI practices.
Other initiatives include:
The creation of staff network groups: Embrace (BAME employees and allies), Platform (LGBT+ employees and allies), Inclusion Forum (working on the findings from our recent EDI audit), Mental Health & Wellbeing and Disability Awareness.
A deep dive into our data, working with our Embrace network, to better understand any barriers to inclusion, attraction, retention and progression, specifically for BAME employees in our organisation.
Quarterly reporting and analysis of our diversity data provided to our Executive team. This data will be used to drive our action plan and focus areas.
Ensuring that our recruitment practices are robust in terms of Equality, Diversity and Inclusion.
Providing Unconscious Bias training for all RDG employees.
Promotion panel interviews to ensure fairness and transparency.
Launching mentoring and reverse mentoring schemes.
Conclusion
We know that we are at the start of our Equality, Diversity and Inclusion journey and we also acknowledge that the data does not make for easy reading, especially for our BAME employees.
However, we are committed to improving all aspects of EDI within the organisation, particularly BAME representation across all levels at RDG, especially at senior leadership levels. We are optimistic that, with the measures we are putting in place, we will see an improvement in these areas in the near future.