About our gender balance
The railway industry wants to build a workforce which reflects the diversity of its customers, with the right skills and the relevant training.
The Rail Delivery Group is committed to enhancing the diversity of our people and the inclusiveness of our working arrangements, practices and policies.
Gender pay gap
Honouring this commitment means fostering a work environment where everyone is rewarded fairly for the work they do and the contributions they make. Addressing the gender pay gap is one part of this and we are setting a strong diversity and inclusion agenda to address both conscious and unconscious bias within our teams.
Male-dominated industries tend to have larger gender pay gaps. Our gender pay gap of 19.3% is primarily caused by women still being under-represented in the highest paid roles and in highly paid technical/specialist roles. Whilst we have seen a slight improvement in our pay gap since 2018, which was 20%, there is still a long way to go and we are determined to change this.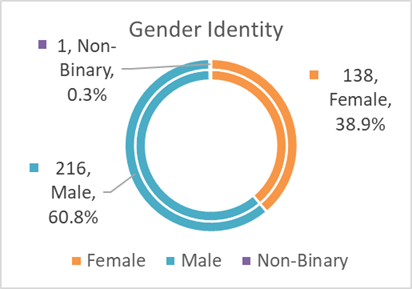 According to RDG's latest Equality, Inclusion & Diversity survey (April 2020), 60.8% of staff identified as Male, 38.9% as Female and 0.3% as Non-Binary. We are working hard, both internally and across the industry, to break down the barriers women face in accessing roles in rail. This includes attracting and recruiting more women into junior technical and engineering roles. In the short-term, it is possible that we may slow progress in reducing the gender pay gap in doing this. However, we are confident that in the long-term, these initiatives will create a diverse workforce and play a key role in narrowing the gender pay gap.
We have already made notable progress in developing and retaining our female talent in senior roles. 40% of all managerial roles at RDG are filled by women, 42% of all promotions last year were for women and 29% of our Executive Director Team is female, which is noteworthy considering that just 5 years ago, we had no female directors. We have made significant progress in improving our gender balance within RDG, but we want, and need, to do more.
Meet some of the women who work in key roles within RDG
Diversity and inclusion
We are continuing to develop new strategies to build a more diverse workforce and an environment that fosters inclusion and equal opportunities at all levels within our business. This work includes:
An independent EDI audit and subsequent recommendations/action plan
Continuous development of our HR Policies, including the promotion of our enhanced family friendly leave entitlements
Awareness training around the positive action provisions of the Equality Act and recruitment and selection
The establishment of internal networks supporting LGBTQ, BAME, Disability and Mental Health
The continuation of Grow and Aspire, our initiative encouraging employees to take ownership of their development through activities such as coaching, mentoring and job shadowing
The promotion of support networks such as Women in Rail, including offering mentors and mentees to their mentorship programme
Promotion of more flexible working patterns
Continuation of the work experience and graduate programmes
Identifying and developing individuals with potential, through programmes such as the CMI
Encouraging internal promotion
Celebrating promotions, qualifications and awards
Structured succession planning
Rail and its supply chain will create 100,000 more jobs for Britain in the coming years, increasing diversity and providing employees with rewarding careers. It is essential that we attract and retain the best people to undertake the important work we do. We will continue to work hard to create a diverse workforce, which will, in time, reduce our gender pay gap. This is not a quick fix for us, and we acknowledge we have some way to go to achieving real pay equality. However, we have made significant progress in the last few years and commit to continue to do so in the years to come.
Our diversity statement 2018-2019