The partnership railway in action: 260 improvement projects delivered, on time, and on budget
by Paul Plummer, Chief Executive
It's not often in this job that you get to be present at the re-opening of a major station, and certainly not one as crucial to the economy as the new London Bridge. Not only a widely-acclaimed piece of architecture, it is part of the railway's long-term plan for change that will regenerate the surrounding area, playing an expanded role in connecting communities from the south coast to East Anglia, spreading opportunity to many other towns and cities. It is a station of which all of us who work on the railway can be massively proud, and one for which it was a privilege to be present for the unveiling yesterday. The full opening of the concourse and the opening of the final five platforms, allowing Cannon Street trains to resume calling at the landmark new station, is an investment that will improve the experience of commuters across London and the South East.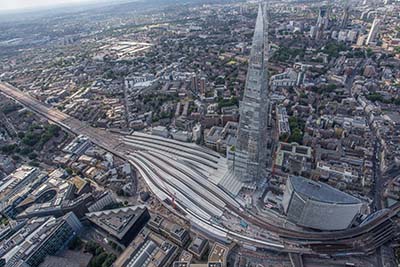 Completed on-time and on-budget over Christmas as a crucial part of the £6 billion Thameslink Programme, it was led by Network Rail in conjunction with Govia Thameslink Railway and Southeastern, supported by the Department for Transport and delivered by a number of contractors through the supply chain.
What's especially exciting is that the new station is the perfect example of Britain's partnership railway in action. It was not merely the work of one organisation, but, like many of the most significant railway projects, the result of years both the public and the private sectors working together in a very close relationship to achieve a huge boost to the area economically.
No-one can pretend that the work to rebuild London Bridge was straightforward, and we thank passengers for their patience, but that's the case with any honest relationship between partners when trying to solve a difficult problem. Many weekend and evening closures undoubtedly inconvenienced people. Railway projects can often be compared to open heart surgery on a patient that's still breathing – and it wasn't always easy managing the demands of the 50 million people who use London Bridge station each year.
Of course, it wasn't just London Bridge where the action took place. Nationally, 260 projects, worth over £160m, finished on time. At Liverpool Lime Street, a signalling upgrade as well as upgrades to platforms and the installation of overhead electrical equipment was undertaken, a £340m railway investment in the Liverpool region as part of the wider Great North Rail Project which will enable an extra three services per hour, including direct services to Scotland. Between Preston and Blackpool, work has been underway to electrify the line. And in the Southampton area, an £8m renewal of track infrastructure took place, with more than 100 people working shifts 24 hours a day to replace 6,000 metres of cabling and 200 metres of track near Southampton Central. More than 32,000 rail workers – working a combined total of 522,000 hours - helped to deliver the successful ten-day investment programme that will improve journeys for hundreds of thousands of passengers and businesses.
The railway has learned a great deal from the lessons learned and applied them to the redevelopment of that other great London terminus, Waterloo, part of a much bigger upgrade across the South Western network. And it will continue to do so as other major redevelopment projects are progressed. We look forward to delivering many more major upgrades: 2018 brings with it newly electrified lines to the west of England, the North West and Scotland to name just a few places, and a number of new trains to make our customers' journeys faster and more reliable. Our aim is to work together to connect communities, building the economy and deliver a better railway across Britain.
Watch our video: Partnership Railway - Significant improvements at London Bridge