Changing how we work to better help our customers
Working together, the partnership railway of the public and private sectors has a plan to change, improve and secure £85bn prosperity for Britain and enable future investment.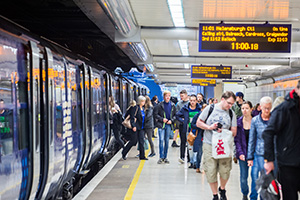 We will run more and better services, which will better connect people and communities, underpin economic growth and create more jobs in rail.
As part of our long-term plan to change and improve, we're doing more to help customers when they travel with us and this includes ensuring we have the right people doing the right job at the right time.
On some routes, trains where drivers control the doors are an important part of delivering our plan because they mean trains can run more frequently and more punctually, as well as freeing up staff to spend more time helping customers. This way of working has been in operation for over 35 years and means our staff on trains and stations will be able to focus on customers, such as helping with journey planning, assisting people on and off trains and preventing anti-social behaviour.
This will help us to meet our commitment to increase customer satisfaction by improving the railway to remain the top-rated major railway in Europe.
Better able to help customers, including those that need assistance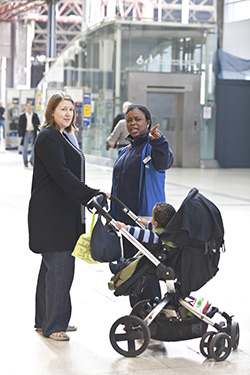 Technology on new trains means that the driver can safely control the doors which allows staff, on the train or at the station, to help customers with their journey.
As well as freeing up staff to help customers, including people who need assistance getting on and off the train, this is a quicker way of checking that it is safe for the train to leave a station. This saves time, and means that trains are more punctual and delays following disruption are reduced faster.
Allowing the driver to control the doors also means more reliable journeys, as services would not need to be cancelled if on board staff are ill or not available. That means fewer delays for customers at stations along the route.
These changes mean more, not less staff on the railways. Train companies now employ almost 50% more people than they did 20 years ago and we are committed to creating 40,000 new jobs across the industry in the next decade.
Committed to a safer railway
Our people and our industry are united in wanting to keep Britain's railway one of the safest major railways in the world.

This includes being absolutely committed to tackling crime and anti-social behaviour on our trains and at stations. Rail companies are working closely together with the British Transport Police to tackle crime and anti-social behaviour across the entire railway. Over the last ten years crime on the railway has fallen by a third (34%).
Changing the way we work will also help tackle antisocial behaviour and improve safety as our people on trains and on stations can focus on customers.
Trains where drivers control the doors have been used for the last 35 years, having been introduced by British Rail in the 1980s. This way of working is known as either Driver Only Operation, where the driver is the only person on board (for example, on London Underground), or Driver Controlled Operation, where the driver controls the doors and there is a second member of staff on the train (for example, on Gatwick Express services). The rail regulator confirms that with suitable equipment, procedures and competent staff in place this is safe, and analysis of recent data concludes that it has been safer than if a second member on board the train open and closes the doors.
These long-lasting improvements to free up guards to keep customers safe and keep up our long-term track record of reducing the number of anti-social incidents on our railway.
Engaging with our people to improve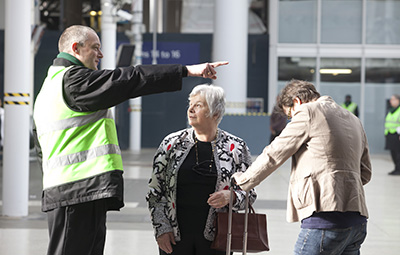 We will continue to engage with our people about changes to how services are run where they are being proposed. The RMT union is opposed to these changes despite guarantees about safety, jobs and accessibility. Jobs are guaranteed for those whose role may be changing.
Nobody wins when strike action disrupts the lives of people in communities across Britain, not least people trying to get to work, get their children to school or to run their local business.
We know we need to change and make long-lasting improvements, and we have a plan to get better so we can do more for our customers and the businesses and communities we serve. That's why we are making the long-lasting improvements that the RMT strikes are about.
That's why, working together, we've got to find a way through this dispute so that we can get on with the business of delivering our long-term plan for the railway, playing our part to support Britain's economy.
Together with major upgrades to stations and the rail network, and thousands of new trains, these changes mean that we can run better, more reliable services that our customers want and communities and businesses depend on.
Read more
Facts and figures
Trains where the driver controls the doors have been in use for over 35 years – they were first used in 1982 between London and Bedford.
These trains are used on routes across Britain
London to Southend (both Greater Anglia and c2c routes)
London Liverpool Street to Colchester
London Liverpool Street to Hertford East, Stansted Airport and Cambridge
London King's Cross to Peterborough, Hertford North, Cambridge and King's Lynn
Most Southern services
Most Chiltern Railway services
London Paddington to Thames Valley stations
Heathrow Express and Heathrow Connect
Most Southern routes
Inner London services on South Eastern
Strathclyde network, including the new Bathgate service
Elizabeth Line (Crossrail)
London Overground and Underground services