Launch of the West of England plan to change and improve
In a landmark coming together last autumn, the nation's rail companies launched a single, long-term plan to change and improve.
Today (19 March 2018), rail companies in the West of England will be joining together in Bristol to set out what that plan means for people in their region.
In Partnership for Britain's Prosperity – The West of England explains what the commitments made by rail companies nationally mean for people in the West. Those commitments are: to strengthen the railway's contribution to the economy, increase customer satisfaction by creating better journeys, boost communities through localised decisions making and investment, and attract diverse talent and provide rewarding careers.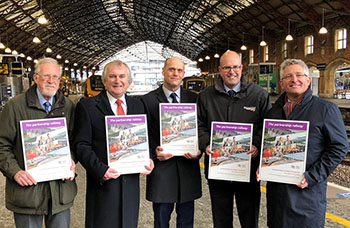 The plan sets out how a changing and improving railway – delivered by a partnership of the public and private sectors – will secure £9.45bn of additional economic growth for communities along the Great Western Mainline while enabling further improvements and investment.
RDG's members will be joined by passenger groups, local businesses and the other organisations with which they work, day-in-day-out to deliver rail services to the West.
The plan set out how £2.4bn invested in operating, maintaining and renewing the railway between 2019-2024 will enable better services. These will better connect people and businesses to key economic hubs in the region and beyond to London, Wales, the Midlands and the North. This is in addition to existing upgrades to electrify the Great Western main line and around £500m of private investment in a brand-new fleet of intercity trains to increase the frequency, quality and speed of journeys.
To deliver the plan's commitment to boost communities through localised decision making and investment, the partnership railway will spend £50m of station and car park investment to improve and enhance the gateways to the villages, towns and cities the railway serves.
Customer and Communities Funds will see £4.5m spent on projects that meet social needs, educate or engage local people, like bringing disused buildings back to life, developing history or heritage activities or encouraging bicycle use.
The plan will see the creation of more than 250 apprenticeships in the decade to 2024, part of a 'Get into Railways' scheme developed with The Prince's Trust. This is in addition to apprenticeships created by rail businesses based across the West.
As we all know, the railway is fundamental to the prosperity of every part of the country, connecting workers to jobs, businesses to markets, and people to their families and friends. Just as our plan will do nationally, In Partnership for Britain's Prosperity - the West of England will spread growth to communities across the region, drive unprecedented improvements for our customers and secure a brighter future for our people who work in rail.
Read our press release: Rail companies together launch long-term plan to boost the West's economy by £9.45bn
| | |
| --- | --- |
| Our commitment to boost the West's economy by £9.45bn | Our commitment to improve services for customers |
| Our commitment to better connect communities | Our commitment to provide employees with rewarding careers |