August has been painful for passengers – but it will be worth it for long-term gain
Last month was an enormous challenge for Britain's rail passengers, many of whom saw their usual journeys disrupted.
At the nation's busiest station, Waterloo, half of the platforms were closed for most of August as work to expand and grow the station was in full flow. The Bank Holiday weekend saw services into other London stations, such as Euston, hit. And it's not just passengers in the capital who have been affected. From Bristol to Bolton, passengers have seen changes as huge investment is pumped into our railway. Across the summer, Network Rail's orange army were out in force.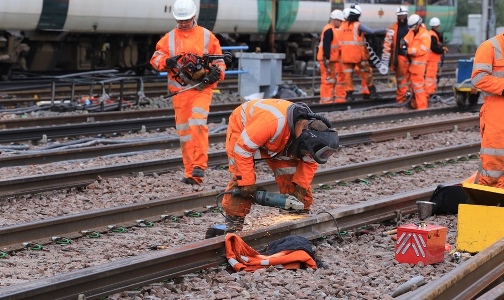 Undoubtedly, the disruption is painful for people, but it is necessary. Over the next 18 months, the completion of a series of projects will help to provide the extra seats and the more punctual journeys that have been promised for so long. Better connections will make local communities stronger. Economic growth will be stimulated as businesses take advantage of the opportunities presented by better rail links.
And yet some businesses have been critical of the work taking place. Understandably, they are concerned about the immediate impact which is why, working together, the railway must continue to do all it can to make sure that disruption is managed, and mitigated. But the work at Waterloo also will increase capacity by 30 per cent, benefiting passengers and businesses from the Thames Valley to the Solent. Work to complete the Elizabeth Line will increase London's rail capacity by 10 per cent alone, with journeys from Reading to Shenfield improved. The Thameslink Programme combines new trains, new track, new signalling, expanded infrastructure and station improvements including an entirely rebuilt London Bridge, meaning better connections to more destinations and delivering significant improvements that respond to growth in demand, now and for the long-term.
Our nation has come to rely on its railway in a way that could not have been envisaged 20 years ago. As jobs have become centred in big cities and house prices have risen, particularly in the south east, more people are travelling by rail to get to work. More businesses want to use rail as a safe, green and reliable way to get their goods to market. And as a society, as we become better connected and our social networks grow, so in our leisure time we want to travel further and more frequently.
For businesses, as much as for passengers, the pain with be worth the gain. We are living in a golden age for rail investment, an era which the country cannot afford to see end if it is to prosper in the years ahead. But that is the risk if the industry fails to do more to tell its story.
It is too easy to take for granted the infrastructure we rely on to go about our everyday lives. From improvements to the railway, to power stations and even sewers, no sooner are they completed than we cannot imagine life without them.
Our nation has great nostalgic affection for its railway but it has fallen out of love with today's service. If public support for investment in rail is to be sustained, the industry must do much more to remind people of the huge good it enables. Only then will people believe that disruption of the kind they've experienced last month is truly worth it.
ENDS