Williams Rail Review (2018- )
We welcomed the Williams Rail Review, set up by government in September 2018.
The review was established to recommend the most appropriate organisational and commercial frameworks to support the delivery of the government's vision for the railway. Led by independent chair Keith Williams, the Rail Review's recommendations will be implemented from 2020.
We believe all voices must be heard in the review, whether trade unions, passenger groups, businesses, politicians, think-tanks or passengers themselves. And all options must be on the table, from the status quo and renationalisation to different models used across the world.
Six principles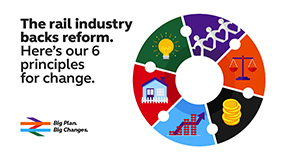 At the start of the review, we set out six principles for the review which we believe should shape the national conversation:
Customers at the heart: a reformed railway which unlocks a new generation of innovation and investment and, where it makes sense, choice for customers.
Clear accountability: building a structure for the railway that creates confidence in its leadership, making it clear where the buck stops when things go wrong.
Delivering value-for-money: avoiding a return to the days when running costs were deep in the red, lines were closed and stations were boarded up.
Driving economic growth: incentivising investment for the long-term, expanding the network and growing and re-balancing Britain's economy.
Strengthening communities: ensuring towns and cities across the country get the maximum benefit from a vibrant, growing railway which is more responsive to, and designed around, the needs and aspirations of the areas it serves.
Inspiring our people: enabling people who work in rail to have long, fulfilling careers, equipped with the skills to respond to future needs and sharing in the railway's success.
Our proposals for change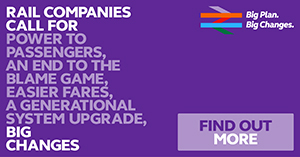 On behalf of Britain's rail companies, we are proposing a radical alternative to the current franchising system that would create a more reliable, more joined-up railway, with improved accountability for passengers and, with changes to regulations, an easier fares system that is better value for our passengers
Our proposals to the government's rail review follow months of conversations with passengers, businesses and communities across the country, to set out the building blocks of a future system that would create a generational step-change in accountability and customer focus.
We're calling for an end to short-term fixes, including the current one size fits all franchising system. Instead, we would replace it with different types of services designed to suit the needs of different groups of passengers.
Accountability would be strengthened by putting a new independent national organising body in charge of the whole industry, helping to end the blame game when things go wrong and giving penalties where rail companies fall short.
And of course, the new system would be underpinned by the industry's proposals to deliver an easier to use, better value fares system.
If adopted by the government's Williams Review, these proposals would create a more reliable, more joined-up railway, with improved accountability for passengers and with changes to regulations an easier fares system that is better value fares for our passengers.
Resources