About my rail fare
Rail plays an ever more crucial role in Britain, with long term growth in passengers and freight. Money from fares goes towards running and maintaining our railway as a vital public service.
For 2018, the average rise in rail fares will be 3.6%. This increase will take effect from 2 January 2018.
The government uses July's Retail Prices Index (RPI) measure of inflation to determine the increase in the price of 'regulated' fares each year. Around half of rail fares are 'regulated', including Season tickets on most commuter journeys, some Off-Peak return tickets on long distance journeys, and Anytime tickets around major cities. You can find out the cost of your season ticket, as well as the average cost per journey on the National Rail Enquiries website.
Train companies have greater freedom to set the prices of other ('unregulated') fares, where there is more competition with other train operators and coach, car or air travel.
Some commonly asked questions about rail fares
Which fares increase in January?
Not all fares increase. The average rise in rail fares for 2018 will be 3.6 per cent. Overall, some fares may go up, many will stay the same and some will reduce in price.
Discounting by train companies has contributed to passenger numbers more than doubling in the last 20 years. There were 1.7billion journeys a year on our railway last year. That's more than 4.5million journeys a day.
Where does the money from my fare go?
The rail industry works hard to get more out of every pound we spend and to make passengers' and taxpayers' money go further to help to build a better railway. You can find out about the improvements going on in your area on Britain Runs on Rail website.
On average, 97p in every pound of your fare goes back into the railway.The vast majority of revenue from fares covers the costs of services, for example paying for trains, fuel, staff and other day-to-day running costs, and helps to sustain investment in more trains, better stations and faster journeys.
For more detail, see ORR's report UK rail industry financial information 2015 to 2016 (issued February 2017).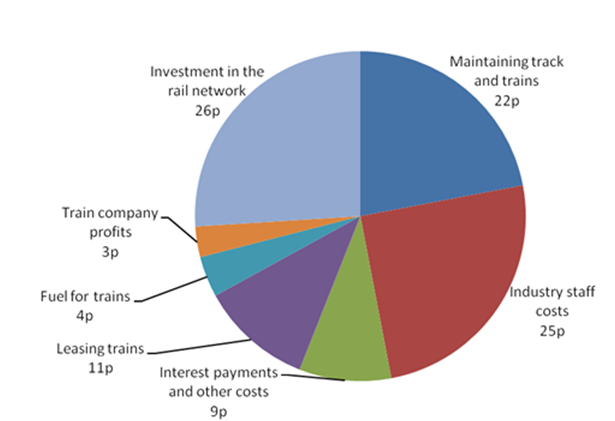 How much have rail fares risen over the years?
The average price paid for a single journey was £5.34 in 2015-16, a 0.3% reduction from £5.36 in 2014-15. This compares with £5.35 in real terms in the mid-1990s.
How do rail fares here compare with the rest of Europe?
Research published by the independent watchdog Transport Focus in 2013 shows that while Britain had relatively high fares for some types of journeys compared to other countries in Europe, it also found that we have some of the lowest ticket prices for long distance journeys, with operators now selling more and more cheap tickets.
Discounting by train companies has contributed to passenger numbers more than doubling in the last 20 years. There were 1.7 billion journeys a year on our railway in 2015-16, which is 4.6 million a day.
Britain has Europe's fastest growing railway. Rail journeys per head of population here grew 60 per cent between 1998 and 2013 to 24.7 a year, overtaking the Netherlands (20.6), widening the gap with France (17.7) and catching up with Germany (24.9).