The future of stations
By Lucy Harper, Policy Manager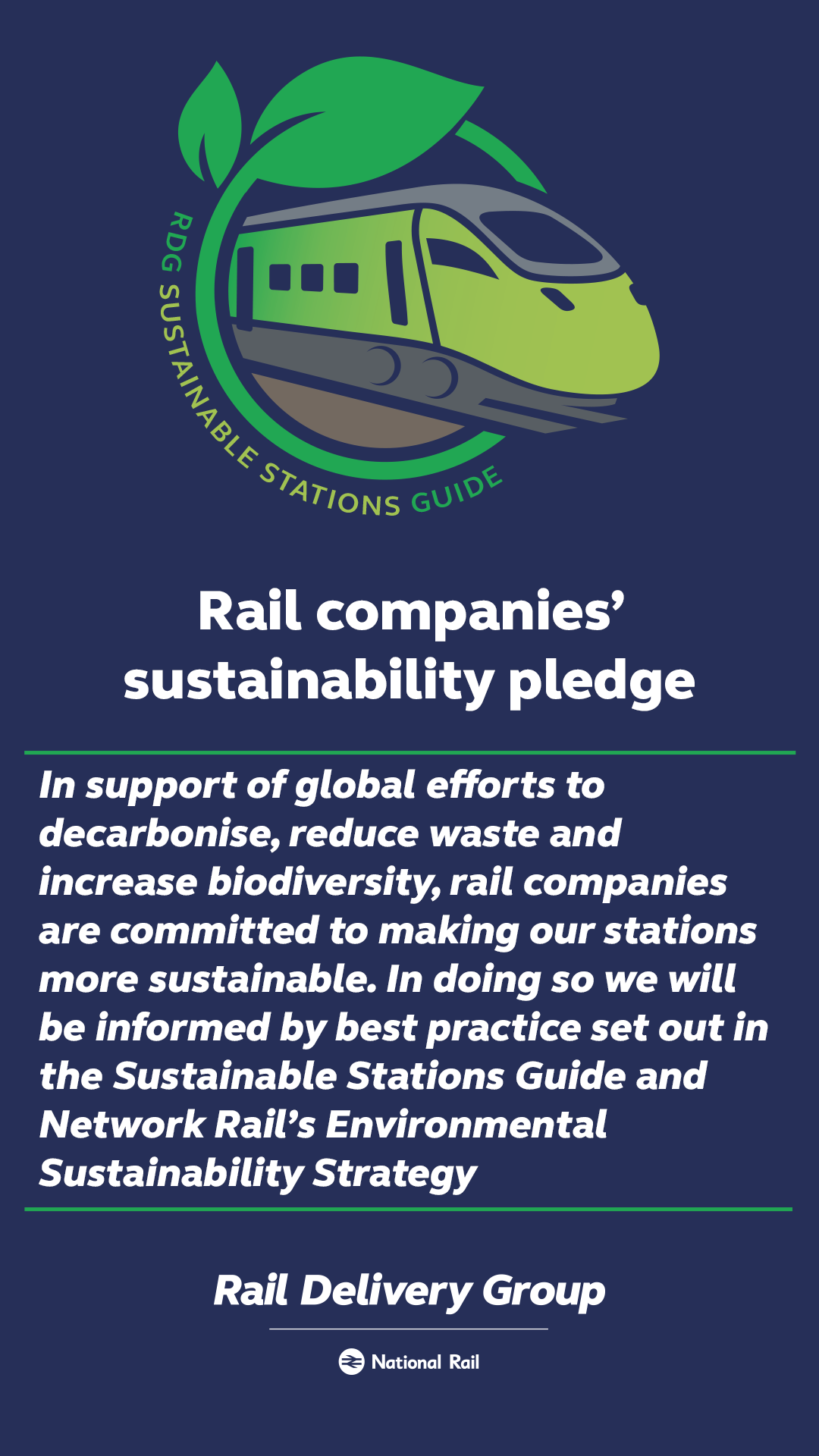 Green stations can lead the way for local communities and economies in the recovery from the pandemic.
Today, we launch our Sustainable stations: best practice guide alongside an industry-wide pledge to make stations throughout Britain more sustainable. This is a significant milestone for the UK Government's net zero carbon ambitions and for reshaping and supporting local communities and economies in the post-pandemic recovery.
In June 2019, the UK Government became the first major global economy to pass a law that requires us to achieve 'net zero' greenhouse gas (GHG) emissions by 2050. Its Transport Decarbonisation Plan (TDP) will be a lynch pin in meeting this target, setting out what government, business and society should do to deliver the significant emissions reduction needed across all modes of transport.
In order to decarbonise transport, the TDP must aim to make public transport and active travel the natural first choice for mobility. Stations will need to play a critical and proactive role to support and enable this transition, beyond decarbonising the railways.
We believe environmental policy at stations should be bold and aim to significantly reduce carbon emissions at stations within Great Britain in advance of the Government's 2050 target. This is because most of the technology required to create sustainable stations already exists, and a vibrant network of community engagement and volunteers are willing and ready to offer their support. The focus now should be to increase the uptake and establish clear accountability.
Where possible, commitments to create sustainable stations should continue to be encouraged within train companies' management contracts. This should also include the construction and enhancement phase so that sustainable materials are used and suitable infrastructure is put in place to support modal integration and other measures. New station proposals should be assessed on their carbon output, and their overall sustainability life-cycle.
Stations also have an important role as transport interchanges. Moving forward it is important that station infrastructure and timetabling is integrated with other travel modes, particularly those with low or zero carbon emissions such as walking, cycling and bus, to minimise the customer's carbon footprint through their end-to-end journey. This transition would support communities to overcome barriers to sustainable mobility, helping to reduce car dependency and car-orientated development, and would support the growing demand for mobility as a service (MaaS), which could be enabled by reforming the system of rail fares.
As we emerge from the Coronavirus pandemic, there will also be opportunities for stations to evolve further and offer more ways in which to support communities and individual lifestyles beyond transport – as places to shop and work, providing facilities for customers that offer multiple use in one destination.
It is also an opportunity to address inequalities within communities, and to consider sociocultural changes in the way we live and work. For example, the increase in people working from home across Britain could see the repurposing of redundant station space as flexible 'offices' and meeting rooms, appealing to those who have less-than ideal home-working conditions and who can benefit from social interaction, greater broadband usage or better technical facilities.
These developments can encourage sustainable ways of living within the wider community, such as by enabling people to pick up shopping or deliveries on their commute rather than making an additional journey or by enabling people to connect with nature through community gardening.
Stations across Britain offer a wealth of exciting and unique opportunities to enhance communities and we must ensure that greater offerings throughout the 2,500 stations in Britain take into account the environmental impact of delivering those extended services. Addressing the sustainability performance at our stations will not only make us more accountable for our carbon emissions but will also contribute to an improved passenger experience.
The Sustainable stations: best practice guide has many examples of the work already underway throughout the country to create greener stations at the heart of local communities and economies. We hope you enjoy the case studies included in the guide and we invite your feedback and ideas on how we can continue to drive the green economic and social recovery.