What do the mayoral election results mean for the rail industry?
By Robert Nisbet, Director of Nations and Regions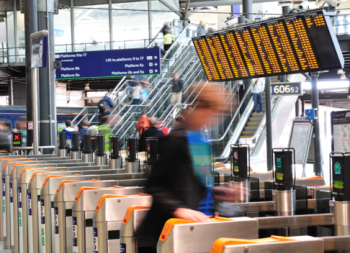 For all the idiosyncrasies on display in British local elections, the Covid-19 pandemic provided one of the more unusual backgrounds for England's mayoral candidates. However unique and hard fought the campaigns, the hard work is just beginning for our newly elected metro mayors.
The pandemic has left no corner of the country unaffected and the UK's urban areas have felt the economic effects most acutely, heightening the need to 'level up' the regions. But it is not all doom and gloom - lockdown restrictions continue to be lifted and in the short term, the UK's economy looks to bounce back quicker than forecast.
So what do the mayoral election results mean for the rail industry? Metro mayors hold considerable powers and funding over local transport planning. This means setting out their own strategic 'Transport Plan' and providing a powerful conduit for knowledge and influence in their wider regions. Candidates outlined their manifesto commitments last month and many are already setting out their stall having been elected on 6 May.
A railway fit for the future
Sadiq Khan leveraged the success of TfL in making campaign calls for the expansion of the network onto commuter services such as Great Northern services into Moorgate. This approach is mirrored in the north where neighbouring Labour mayors look to be following Khan's lead in calling for more control over transport operations.
Central to Andy Burnham's plans for a 'Transport Revolution' across Greater Manchester are proposals to bring bus franchising back under public control and look to do the same with commuter rail services. Steve Rotheram of Liverpool City Region, in his manifesto, called for a full review into the viability of a publicly owned operator for the Merseyrail network and in the build-up to the West Yorkshire mayoral election, Tracy Brabin spoke at length of her plans to bring bus services back under public control.
Trends towards 'concession' based models have gained momentum after the quite public failures of the contemporary franchising model. But the government must learn from lessons past and be wary of repeating mistakes. While franchising served Britain successfully for a long time, it failed because of increasingly over-specified contracts dealt from centralised decision makers, far removed from the people they served.
What matters is a system of contracts which enables delivery of a great service for customers, and reflects local, regional and national needs. The key to which, as we recover from the pandemic, will be flexibility. Commuters in the North and Midlands, who need frequent and reliable services, would be best served by gross-cost concession contracts akin to TfL in London, while net-cost contracts based around customer outcomes would suit the long distance and leisure travellers who want more choice. The passengers that operators serve are changing their habits and the private sector must have the right levers at their disposal to grow new markets and attract people back on to the railway.
Metros give decarb the green light
For the Labour mayors' southern counterparts, a 'green recovery' from the pandemic is on the agenda. Nik Johnson and Dan Norris, reflecting their less metropolitan geographies, have emphasised connectivity and creating a cleaner transport system to address the climate emergency.
Dan Norris's £20 million Green Recovery Plan has pledged wide-scale transformation of the public transport network, with green trains and buses providing the basis of an integrated transit system. Nik Johnson, in Cambridgeshire, is set to focus on a 'fully integrated, green transport system', linking projects such as East West Rail into the current system.
Entering his second term for the West Midlands Combined Authority, Andy Street has pledged more investment in green technology such as hydrogen trains as part of his "WM2041" environmental action plan, to reach net zero in the next 20 years.
Our coastal mayors in Liverpool and the Tees Valley have built successful business cases for their areas as major international gateways post-Brexit with freeport status.
Rail is a low carbon transport mode and accounts for just 1.4% of the UK's transport emissions so must play a significant role in any green economic recovery. But this means investment. Central government must work with our regional leaders to deliver on infrastructure through electrification and building capacity on the rail freight network, taking freight off roads and on to the track.
Fare value for customers
Customers too will need to be encouraged back on the railways with fares that allow them more flexible travel. Even before the pandemic, fares and ticketing were too reflective of the past and had not kept up with shifts in technology and retailing. This has only become more pronounced with monumental changes to people's working patterns. For those that do return, there is likely to be a considerable shift from peak to off peak travel, which means the fares and tickets on offer need to adapt.
There is bi-partisan support among our new crop of mayors for the need to change how rail fares are administered. The running theme through manifestos was the insistence that fares should reflect the particular demographics of urban/suburban dwellers. The focus is increasingly on providing integrated multi-modal networks with simple 'pay as you go' ticketing, providing commuters with an efficient and reliable service which provides value for money.
As our 'Easier Fares For All' proposals set out, this cannot be achieved without first reforming the government's outdated 'Ticketing and Settlement Agreement' with a new set of regulations, enabling greater local control over fares in devolved areas and better integration of rail fares with other modes of transport. If the rail industry's proposed changes are delivered under a new system, commuters working flexibly and travelling in off-peak hours could see savings, while overcrowding could be reduced by up to a third on some of the busiest long-distance services.
Further devolution of transport services to mayors was a standout pledge in the 2019 Conservative manifesto and originally served as a key marker for the Williams review. As our metro mayors begin their terms in office, they will be eagerly awaiting the government's white paper response to the much-anticipated review. What is clear is that Britain's railways can and should play a central role in the economic recovery of the nation and reform is critical to that recovery.