Q&A for International Women in Engineering Day 2021
With Susie Homan, our Director of People, Operations and Railway Strategy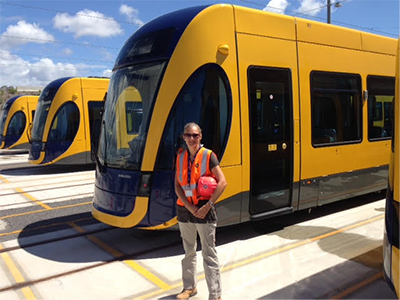 For this year's International Women in Engineering Day, we interviewed Susie Homan, our Director of People, Operations and Railway Strategy.
What is involved in your day to day role?
As the Director of People, Operations and Railway Strategy, our Engineering team sits within the Railway Strategy department. My role is to lead and support my team and to bring the industry together to meet common goals and aspirations, and to share best practice and innovation.
Within the engineering field of my role, this can cover items such as: understanding what the latest information is around Covid-19 and how we mitigate that within the railway; ensuring we are sharing and learning from new fleet introduction and fleet/train performance; and championing our strategies for decarbonisation of the railway.
What do you hope to achieve in this role?
That the railway can deliver on some important goals that are good for the whole of Britain's railway, recover from the impact of coronavirus, improve the performance of our railway network and through everything we do, improve the overall experience for our customers.
What made you join the rail industry?
Well, that was by accident … literally! I was new out of college and was still deciding what I wanted to do. I had a job selling panels and paints to car body shops when I had a bad horse riding accident and broke my arm and wrist, leading to pins and plates in my arm. This meant I wasn't allowed to drive for two months (which was essential for my role). The company I worked for was kind enough to offer me a role selling in their stores, but I didn't want to do that and then I saw an advert in the local paper looking for a customer welcome host at my local station. I applied and the rest is history!
To be honest I didn't expect to stay. I thought it would tide me over until I knew what I wanted to do, but I was hooked! The industry is so interesting and there are so many different roles and career paths that I have just kept moving and learning - and here I am, some 28 years later.
What's your advice for women looking to get into the engineering sector?
If this is your passion, then please just go ahead and apply. In the railway, the people that already work here are very welcoming and eager to share their knowledge. There is a real family feel and you will have friends for life, as well as great mentors. We have not always been great at advertising the great opportunities we provide or the scope of engineering or other roles we have, but we are improving in this area.
What's your favourite thing about your job?
When I know we have delivered on something that matters to millions of people that travel by train every day. Admittedly, our customers wouldn't know what we do at RDG as we work with the companies that operate, maintain and build our railways but it still gives me a sense of pride to know that my team and I are doing our part to improve our national rail network every day.
Who is your engineering hero?
Isambard Kingdom Brunel
What do you think the industry and the wider engineering sector need to do to encourage more women to join them?
Engage earlier and think about how we are describing our roles. I never even thought about the railway as a career option at school and I know this is often the same story I hear today from women in our industry.
We need to get better at selling why we do what we do - the community connections we provide, the importance we have in our country's mobility, the diversity of roles and projects we have to offer, and the well-established structures in place to ensure you succeed.
The railway is a great industry and can offer a great and varied career, but you won't necessarily hear about it when you're at school, college or university!
******
We hope you've enjoyed this insight into Susie's journey in rail, and the opportunities available for women and men in our rewarding industry. Our most senior woman at RDG, CEO Jac Starr, agrees there is no better time to join the railway family.
"When I joined the rail industry almost six years ago, I had high hopes and strong ambitions. Here I am - as a female CEO - within what is becoming an increasingly diverse industry.

Get curious about the railway and see what a career in engineering can offer - there's no better time to join our railway family!"
With women now making up 14% of engineers in the rail industry, it's a great start, but we can make it even greater with your help. Find out more about how to get into rail at https://www.raildeliverygroup.com/about-us/careers/ways-into-rail.html.