We're working to make rail fares easier
Earlier this year, we published radical proposals for once-in-a-generation reform of the fares system.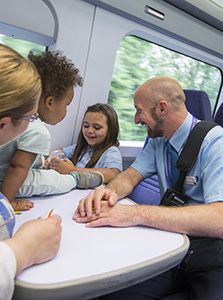 This followed the biggest ever rail fares consultation, which found that eight out of 10 people wanted the system overhauled.
The industry's Easier Fares for All proposals explained how updates to regulation would enable the transparent, simpler to understand fares system people want, backed up for the first time by an industry 'best fare guarantee'.
We want to see root and branch reform of outdated regulations.
Our reform proposals would support:
'tap in, tap out' pay-as-you-go being rolled out across the country;
enable greater local control over fares in devolved areas; and
better integration of rail fares with those for other modes of transport.
With a new system, commuters working flexibly and travelling in off-peak hours could see savings, while overcrowding could be reduced by up to a third on some of the busiest long-distance services.