Fares FAQs
Which fares increase in January?
Government policy affects all train fares, either through regulated fares or through the payments it receives from train companies. In 2018-19, train companies paid the government more than £840million net last year, helping government to support the biggest investment in our railway since Victorian times. The pandemic has obviously had a big impact on the amount that could be reinvested.
Around 40 per cent of rail fares are 'regulated', including Season tickets on most commuter journeys, some Off-Peak return tickets on long distance journeys and Anytime tickets around major cities. The government uses July's Retail Prices Index (RPI) measure of inflation to determine the increase in the price of these fares.
Regarding 'unregulated' fares: some fares may go up, many will stay the same and some will reduce in price. Discounting by train companies has contributed to passenger numbers more than doubling in the last 20 years. There were 1.76 billion journeys on our railway in 2018-19 - a record high. That's more than 4.7 million journeys a day on average.
On 1 March 2021 (usually 1 January), rail fares rose on average by 2.6 per cent. Read our press release about the 2021 rail fares.
Where does the money from my fare go?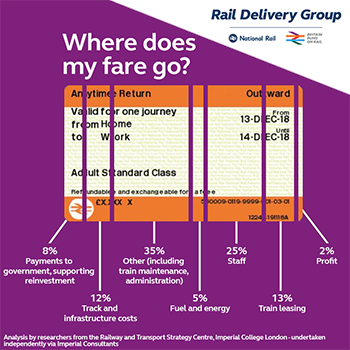 Money from fares fuels Britain's railway, a vital public service delivered in partnership with the private sector. The partnership railway connects workers to jobs, businesses to markets, and people to their families and friends. Combined with private investment and government support, this money is enabling unprecedented improvements now and in the long-term, with new trains, better services and improved stations connecting communities and driving growth across the country.
On average, around 98p in every £1 from fares goes back into running and maintaining services.
Everyone in the railway works hard to get more out of every pound it receives and spends, to make passengers' and taxpayers' money go further to help to build a better railway.
The vast majority of revenue from fares covers the costs of services - for example paying for trains, fuel, staff and other day-to-day running costs - and helps to sustain investment in more trains, better stations and faster journeys.
For more detail, read the latest ORR annual report on the UK rail industry's finances.
How much have rail fares risen over the years?
At around £5.46, the average price paid for a single journey is less now in real terms than it was ten years ago.
The average price paid per journey on a Season ticket has fallen in real terms by 15.1 per cent since 1999-2000.
Why is getting the right ticket so complicated?
We agree! So Britain's rail companies, together with Transport Focus, ran a national consultation over the summer of 2018 to seek 'root and branch reform' of fares and ticketing regulation - and nearly 20,000 people responded. Find out more about our 'Easier Fares; proposals to government.
How can I travel for less?
Finding a good value train ticket is easier than ever, with online tools and a great range of discounts available. The National Rail Enquiries website has a five point plan to to help you get the best deal for your journey.
To find out the cost of your Season ticket, as well as the average cost per journey, go to the NRE season ticket calculator.
How do rail fares here compare with the rest of Europe?
Research published by the independent watchdog Transport Focus shows that while Britain had relatively high fares for some types of journeys compared to other countries in Europe, it also found that we have some of the lowest ticket prices for long distance journeys with operators now selling more and more cheap tickets.
Britain has Europe's fastest growing railway. UK passenger journey growth since 1997-98 has outstripped France, Germany and Spain. According to the most recent EU Commission survey, rail customers in the UK were more satisfied than those of any other major European railway.