Railway's role in WW1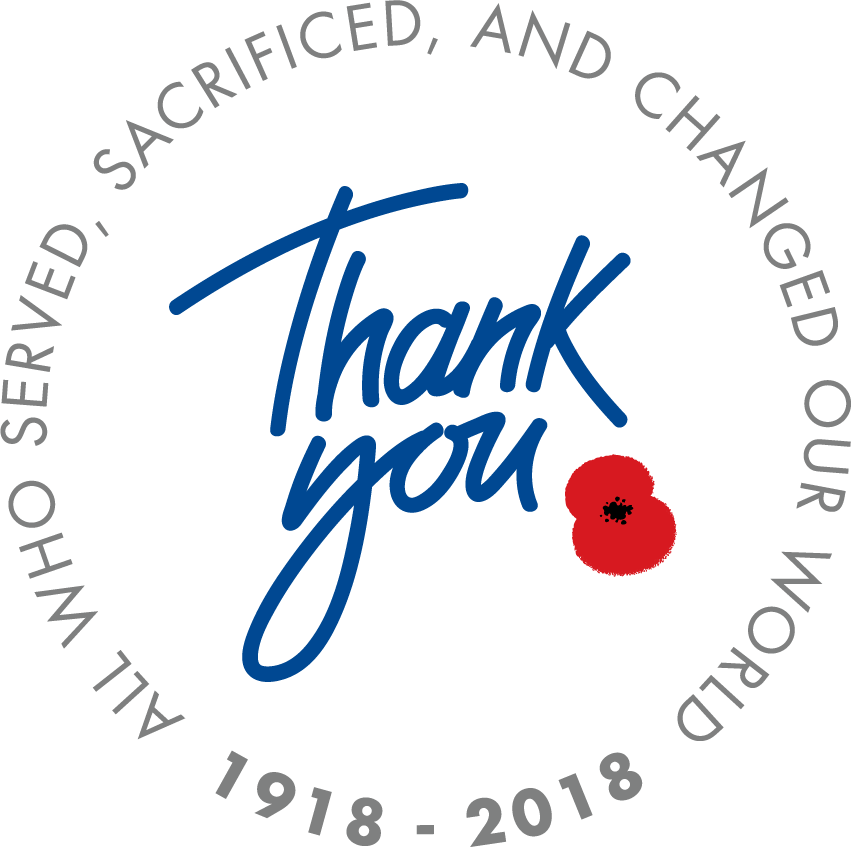 The World War I railway story
The railway, and its workers, played a crucial role in World War I. When Britain declared war on Germany, it was trains that enabled efficient movement of the British forces, and equipment, between France and the Home Front. The trains transported troops, rations, coal, water and artillery across Britain and across Europe in a way never previously seen.
2018 marks the 100th anniversary of the end of WWI. In partnership with The Royal British Legion we say Thank You to all that served, sacrificed and changed our world.
This webpage gives a brief overview of some of the remarkable railway stories from the war and honours the vital contribution the railway workers made.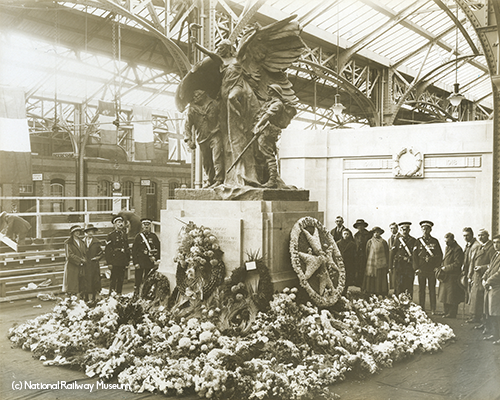 How we will remember. See our how the industry is supporting remembrance across the country.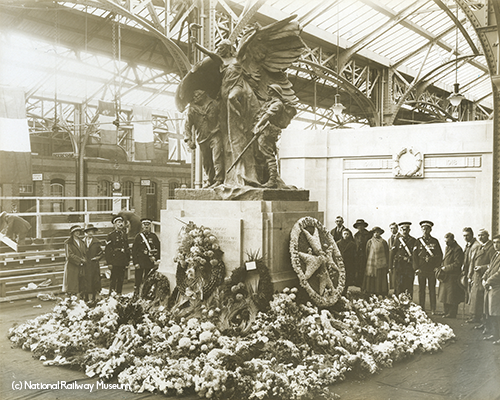 Lest we forget
Together the industry is supporting
acts of remembrance across the country.
Railway stories
Railway's role in World War 1
In 1914, there were 23,000 miles of rail track and 4,000 stations in Britain. Passenger numbers had grown rapidly in the decades leading up to the war, hitting a high of 1,550 million in 1914 - numbers not seen again for another hundred years.
Before the war, over 700,000 people were working on Britain's railway making it one of the country's largest employers. Of these, over 100,000 enlisted when war first broke out. This resulted in a skills shortage at a time when the railway was under pressure to get troops, weapons and supplies to the front line.
By the end of the war, 20,000 railway staff had tragically lost their lives. They are remembered in memorials across the country, with many situated at railway stations.
Moving armies
Britain declared war on Germany at 11pm on 4 August 1914 and rapid mobilisation of the British forces was needed. Boats to France were waiting at the docks in Southampton, and moving troops from far-flung bases and barracks around the country was the railway's first priority.
By 31 August the railway had transported nearly 120,000 servicemen to Southampton.
The first train carrying members of the original expeditionary force left Waterloo station on the morning of Sunday 10 August, arriving into Southampton station at 8.15am.
During the next 21 days, a train full of troops would reach the docks every 12 minutes, 14-hours a day.
Britain's railway enabled military personnel and equipment to be moved from around the country to departure points headed for Europe. Within a month of war being declared, trains travelling to Southampton had transported:
118,454 service personnel
37,649 horses
314 guns
5,221 vehicles
1,807 bicycles
4,557 tons of baggage
Small railways were as vital to the War effort as main routes. Some such as the 5-mile Sheffield District Railway transported guns and munitions. Others had unique access to quarries, crucial for transporting coal and minerals. The whole network played its part.
Railway women during World War I
At the start of the war approximately 13,000 women were railway employees, mainly in domestic roles such as waitressing, cleaning and washing. But as 100,000 men left the railway to fight abroad in August 1914, women took up employment to meet the subsequent skills shortage.
It may seem shocking to us reading this today but many at the time thought it strange for women to take on roles traditionally seen as the work of men, some even started a protest against women signal workers. But their vital work kept the railway functioning and helped change the face of the workforce.
During the war, over 1.6 million women worked in traditionally male jobs, with over 100,000 working in different forms of transport, especially as engineers. Due to the heavy duty work, practical clothes were required and women began to wear trousers – a shocking innovation at the time that soon spread to other areas of work.
When the war ended in 1918 many of the women retained in their positions and the number of women employed by the railways has never again fallen below pre-war level.
Ambulance trains: the lifesaving railway
British railway companies led the way turning trains into hospitals with medical facilities both in Britain and abroad. Injured personnel were treated on ambulance trains before being sent to hospitals in France or Britain. Over the course of the war, ambulance trains transported approximately six million wounded servicemen.
On board an ambulance train, operating theatres were fitted, the theatres were tiled floor to ceiling to ensure better hygiene. Despite the swaying and vibrations of the moving train, surgeons would perform emergency operations mid-journey.
Ambulance trains became the primary way to transport sick and injured troops, both in Britain and on the continent.
The secret railway
As the Dover port was at capacity during WW1, a new railway station, line and port were constructed in Richborough in Kent, this was known as "The Secret Harbour of 1916".
Tonnes of war material would simply be placed in train wagons and simply rolled from track directly to on-board the ferries for transport, this greatly reduced the amount of time and labour required in transporting these materials. Between 1916-18 this unique method of transport carried 1,282,656 tons of supplies and munitions on 164 locomotives and 7,142 Railway Wagons.
Richborough port itself was camouflaged to avoid detection from the enemy bombers, all port buildings were one-story, with their walls and roofs painted to match the general background of a low-lying area. The 'Secret Harbour' was a military secret that was so strictly and carefully observed, that the existence of the port had been unknown to the enemy during the whole war; even though aircraft often flew over-head.
Coming home
After spending long periods of time abroad, surrounded by the constant strain of conflict, a rare period of home leave was a welcome relief for those serving in the war. Troops returning home would be issued with a rail ticket to travel back to see their loved ones.
This meant one of the first stops on the journey home of a tired soldier would be a train station. Around the country volunteers provided a friendly face and comfort for troops through the provision of free refreshments, funded entirely by local donations. Between 1915 and 1920, the Waterloo Free Buffet for sailors and soldiers fed more than eight million.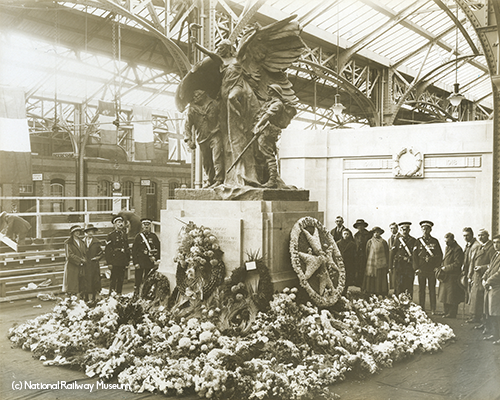 How we will remember
A century on, the bravery, scale and heroic efforts of those involved in World War I are not forgotten.

Together the industry is supporting acts of remembrance across the country.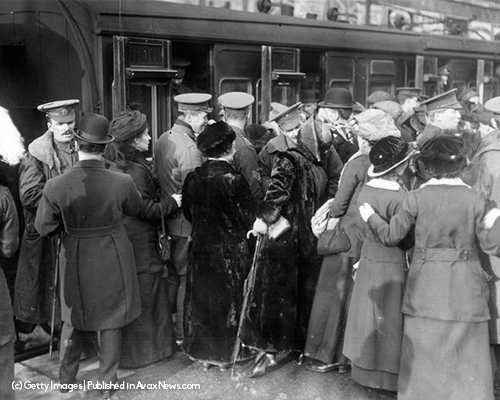 Free travel for Poppy Day collectors
For The Royal British Legion city poppy day collections at Bristol, Birmingham, London and Manchester the rail industry is providing free travel for all collectors to travel to their collections sites.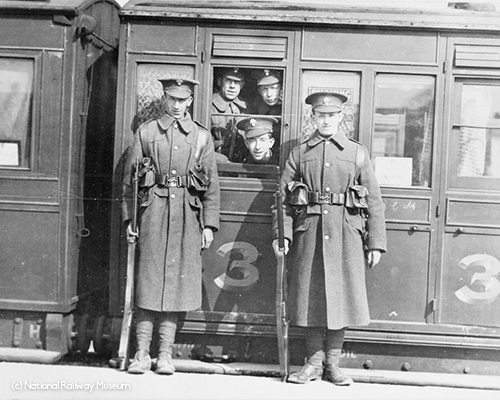 Railway employees lost during WW1
The National Railway Museum has collated an archive of over 20,000 fallen railway employees that lost their lives in World War I. You can search the database by name, railway company, military regiment or the date they died.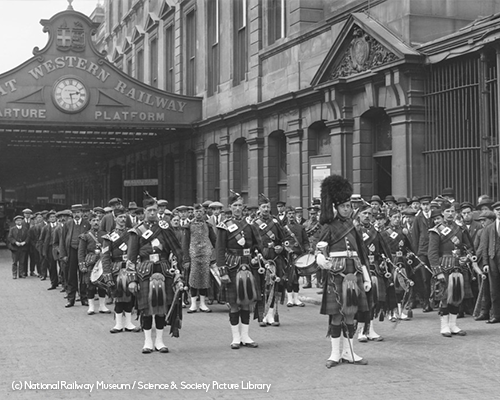 Free travel for 1418 remembrance volunteers
On Remembrance Sunday, 11 November, film director Danny Boyle will invite people across the UK to travel to one of 30-50 nominated beaches at low tide to take part in a national moment commemorating the centenary of Armistice.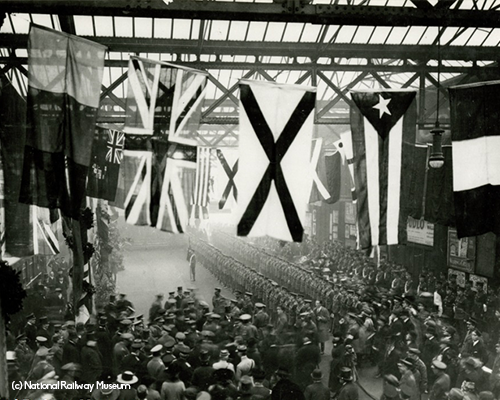 Remembrance Sunday free travel for military
Serving military personnel attending services in London on Sunday 11 November will receive complimentary travel to any London terminal station, so they can pay their respects to those lost.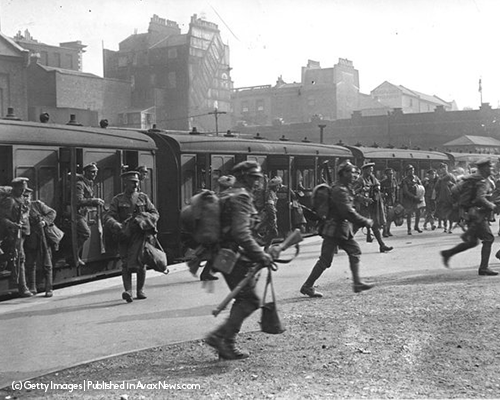 HM Forces Railcard
Over 275,000 people are eligible for a HM Forces Railcard, this includes all members of the Regular Forces, Reservists, or a spouse/civil partner of a member. Over 65,000 of these railcards are in circulation, the railcard only costs £21 and saves holders 1/3 on most rail fares throughout Great Britain for a whole year.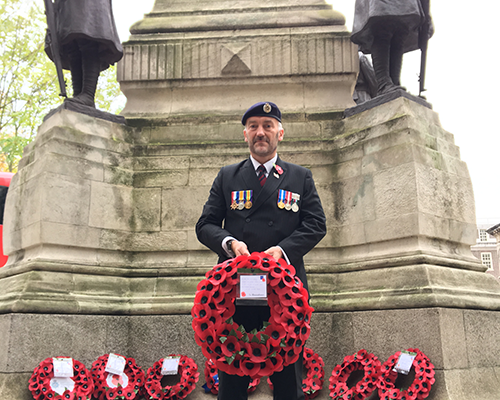 Wreath laying at the Cenotaph
Ian Parker, a senior railway engineer with Network Rail and former Staff Sergeant with the army reserves, laid a wreath on Remembrance Sunday at the cenotaph on behalf of the rail industry to remember the 186,475 railway workers who served under arms, and during which nearly 19,000 lost their lives during the conflict.

Ian's Great Uncle, William Charles Lane was a Railway Porter working for the South Eastern & Chatham Railway when he joined the Royal Army Medical Corps on the outbreak of war. Pte Lane was deployed to the Western front in Jan 1915 tending to casualties on the battlefield for the duration of the war, and returned home safely, continuing to work on the railways until his retirement in 1954.