Railway's role in World War I
In 1914, there were 23,000 miles of rail track and 4,000 stations in Britain.
Passenger numbers had grown rapidly in the decades leading up to the war, hitting a high of 1,550 million in 1914 - numbers not seen again for another hundred years.
Britain's rail network and the people who worked on it played a crucial role during World War I. By the end of the war, 20,000 railway workers had lost their lives. They are remembered in memorials across the country, many sited at railway stations.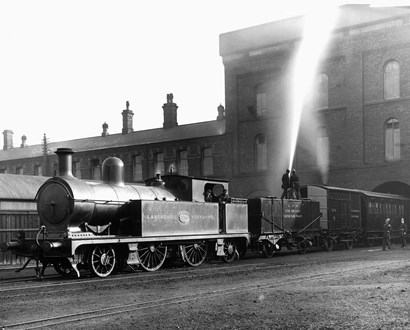 Supporting the war effort
Britain's railway enabled troops and equipment to be moved from around the country to departure points headed for Europe. Within a month of war being declared in August 1914, trains travelling to Southampton had transported:
118,454 army personnel
37,649 horses
314 guns
5,221 vehicles
1,807 bicycles
4,557 tons of baggage.
The railway also contributed on the home front:
Ambulance trains transported the injured
Railway stations were used as places to advertise important information
Troops on leave were welcomed home and could get food at major railway stations.
Railway workers signed up
Before the war, over 700,000 people worked on Britain's railway. Of these, over 100,000 signed up to fight when war first broke out. This resulted in a skills shortage at a time when the railway was under pressure to get troops, weapons and supplies to the front line.
Many railwaymen joined the Railway Operating Division of the Royal Engineers.
Women in the railway
Find out more about women's role in the railways during World War I.