RDG governance
Governance
This section contains details of the governance structure of the Rail Delivery Group (RDG)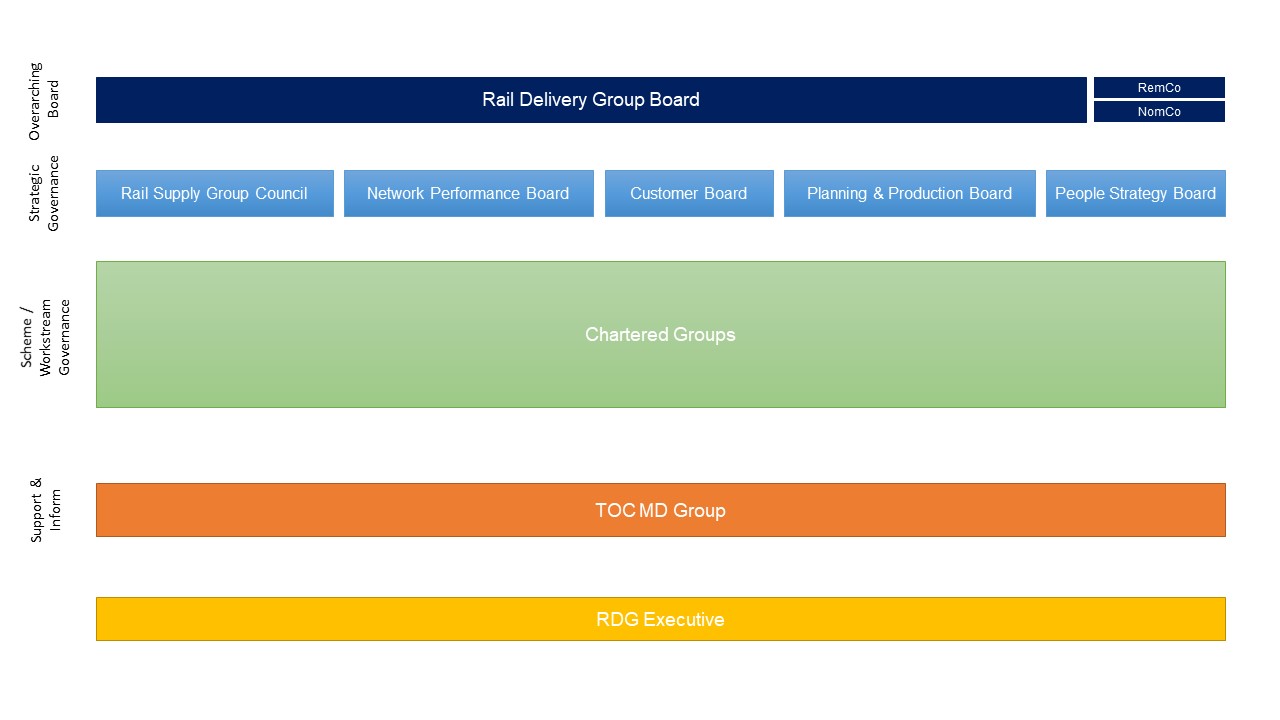 Rail Delivery Group Board
The RDG Board is the overarching governance body for all activities carried out by the organisation.
It brings together all passenger and freight operators with Network Rail and HS2 to provide oversight of all activities delivered by the organisation on behalf of its members. It provides governance in relation to the voice for the railway as a whole and also for the railway as a whole but also for passenger and/or freight operators separately where necessary.
Membership of the RDG Board
RDG Board meetings
Articles of Association of Rail Delivery Group Ltd
Strategic Boards
The Strategic Boards bridge the gap between the RDG vision for the industry and how that vision is delivered by the industry. They have been formed to give line of sight, alignment, and joining up of activities for all the groups chartered to them. They also provide a point of escalation that can determine between competing priorities and, if needed, can give direction to their chartered groups.
More about our Strategic Boards
The Strategic Boards are:
Chartered groups
Under each Strategic Board are 'chartered groups' (previously known as Schemes and Groups). These are generally made up of representatives from member organisations (i.e. train operators, owning groups, freight operators, Network Rail, Board members). In some cases, the groups may include representation from non-member organisations where there is value in having the expertise of certain external bodies represented on them.
Find out more about the chartered groups on the Strategic Boards page.
Executive Committee
This group meets monthly, and focuses on the outputs of the organisation and the contribution to the wider industry.
Membership of the Executive Team
Our membership
The RDG membership comprises the passenger train operators and their owning groups, freight operators and Network Rail.
Our services
From our offices, we provide strategic and tactical services for the whole rail industry including:
a central clearing house for the train operators, enabling passengers to buy tickets to travel on any part of the rail network from any station, through the Rail Settlement Plan;
a customer experience operation, covering the National Rail Enquiries service and commercial activities, such as railcards and licensing of third party retailers;
the rail staff travel service, providing eligible staff in the industry with some level of concessionary travel;
a planning, engineering and operations team, that supports members in delivering a safe, punctual and economic railway;
a communications function, managing media and public affairs matters.