Black History Month
Celebrating black railway workers that made history
This year for Black History Month, we're publishing a series of blogs by members of the RDG's minority ethnic network, Embrace. This blog was written by Layla Fazal, Media and Communications Manager at RDG.
Our people are our greatest assets. In moments of crisis, they work tirelessly to keep the railway running, getting people to their jobs, goods to supermarket shelves and connecting friends and family.
The contribution of our Black, Asian and minority ethnic colleagues is vast and one we are immensely proud of. People from these backgrounds have been working on the railway from the nineteenth and early twentieth centuries, overcoming prejudice and adversity to pave the way for racial equality in Britain.
To kick off our blog series for Black History Month, we've gathered some examples of the black rail workers that have made our railway what it is today.
---
Asquith Xavier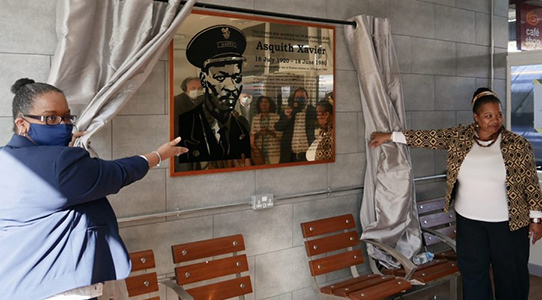 Asquith Xavier was a West Indian guard who fought a Whites-only policy at Euston Station. Asquith came to Britain from Dominica aged 46 and started working in rail in 1956 as a porter, working his way up to rail guard at Marylebone station. As a result of the Beeching cuts, he applied for jobs at other stations including Euston station, where he was rejected because of the ban on 'coloured men.'
Asquith worked with unions to fight this policy and his campaign received national attention, including in Parliament. He became a pioneering public figure and his action led to British Railways scrapping the racist recruitment policy on 15 July 1966.
On his first day starting work at Euston, he was greeted by both a British Rail executive and the station committee's senior trade union representative. His victory helped to lead to the creation of the Commission for Racial Equality and the 1968 Race Relations Act which made it illegal to refuse housing, employment or public services to people because of their ethnic background.
A plaque to remember Asquith Xavier's achievement has recently been unveiled at the railway station in his hometown of Chatham.
Wilston Samuel Jackson
Wilston Samuel Jackson was Britain's first black train driver. Part of the Windrush generation, he emigrated from Jamaica in 1951 when he was only 24 years old. After working in a glass factory and as a fireman on trains, he became a driver in 1961. Throughout his career he drove the Flying Scotsman, the Mallard and The Elizabethan — transporting Her Majesty the Queen up and down the country. 
In October 1964, Wilston's train collided head-on with another near Finsbury Park Station, after a signaller gave a green light in error during dense fog. His legs were completely severed and then surgically reattached. After spending two years recovering in hospital, in 1966 Wilston was able to walk unaided and returned to his train driving job.
Later that year, he moved to Zambia where train drivers were high in demand and where he met the love of his life, Naomi. 
Trudy Aarons
Trudy Aarons was one of Britain's first black female train drivers. Trudy was born in Barbados in 191 and left to come to Britain aged 16. She went to college in Vauxhall for a couple of years and then worked at the Navy, Army and Air Force Institutes in Kennington for three years, before leaving to start a family.
Once her four children were in school, Trudy decided she wanted to go back to work. A friend said the railway was recruiting guards, so she applied and was successful. Trudy joined British Rail as a guard on 3 January 1989. After a year, Trudy started training to become a driver, working suburban services out of Waterloo.
As a driver, Trudy didn't have much contact with the public, but she noticed that passengers who saw her were often surprised to see a woman of colour driving the train – she would give them a smile in response, knowing she was trailblazing for more female and black train drivers.
Trudy retired in 2018, after 29 years on the railway working for British Rail, South West Trains, and South Western Railway.
A full interview with Trudy was featured in the June 2018 edition of the ASLEF Journal and is available on their website.
Barrington Young
Barrington Young was one of the first black train inspectors in the UK. Born in Kingston, Jamaica, Barrington came to Britain in 1954. He took work at a cotton mill in Royton, before starting work on the railways.
He first worked as a shunter, then a goods guard, passenger guard, and senior conductor before becoming the first black train inspector in the north-west, in an impressive career spanning 39 years on the railways. He was also an enthusiastic member of the Manchester Model Railway Society and built an elaborate train set in his cellar.
Barrington was a stalwart of his community and worked hard to ensure that black children in Britain were educated about their Caribbean heritage.
---
The immense contribution of our black colleagues continues into the present day. Next week's blog will be looking at the inspirational black figures currently working in the rail industry.