Apprenticeships
Apprenticeships are for both young people and adult learners, and typically last between one and four years.
They are a great way to gain a qualification whilst earning a salary, working on real projects and gaining real workplace experience. Rail offers a varied range of apprenticeships, including:
Business administration
Rail services (train drivers)
Customer service
IT and telecoms
Engineering
Railway operations
Leadership and management
Our members in the rail industry include passenger train operating companies, freight operating companies, Network Rail and the supply chain, and many offer a variety of apprenticeship opportunities across different parts of their business. They are keen for new people from all backgrounds to join them. Use these links to find out more:
See what some apprentices have to say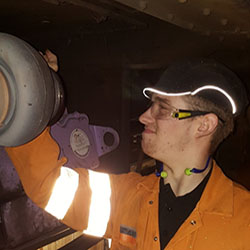 Jack Davidson
Fleet Maintenance Apprentice, Arriva Trains Wales
"During my A levels I was undecided whether I wanted to go straight to university or go through an apprenticeship scheme. I chose the railway apprenticeship scheme as it gives me the ability to apply myself both in a classroom and working environment. I feel that if I had chosen university instead I would not have received the same level of support and experience. I am extremely grateful for the level of knowledge that my trainers and technicians bestow onto me every day and I am honoured to be given such an incredible opportunity."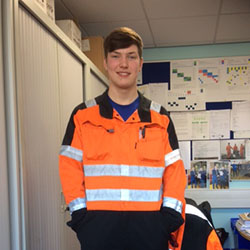 Reegan Parramore
Engineer, Chiltern Railways
"I have always had an interest in engineering and visited Ffestinog Railway (Wales) to participate in a kid's week which gave me the initial idea of booking into the railway industry for an apprenticeship. The Chiltern railway apprenticeship scheme offered the opportunity to progress my engineering education by doing a level 3 and HNC in mechanical engineering. It also offered a hands-on experience working on the trains.
Every day as an apprentice is different as you are always doing different jobs, booking at various faults and problems on the trains. The jobs I do can range from helping with oil changes to engine and raft changes.
The railway industry is a great place to work it is very challenging and can test your engineering ability on a day to day basis. I enjoy developing my knowledge across the board and work with various systems such as air, electronics and mechanical systems.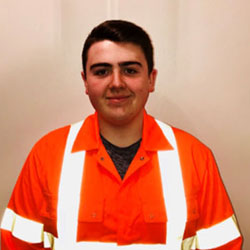 Liam Kay
Train Technician, ScotRail
"I joined the railway apprentice scheme as it provided me with an excellent opportunity to work within an engineering environment and allowed me to further my passion for engineering on a practical level."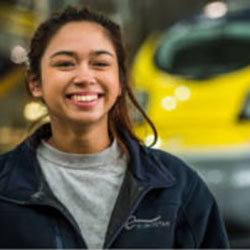 Pensuree Wallis
Engineer, Eurostar International Ltd
"I always felt really supported by the Eurostar team who encouraged me to continue with my education whilst I learnt hands‐on skills from Eurostar experts within a real working environment.
I get along really well with all the team and I'm really happy to be able to continue my career with Eurostar as a qualified engineer. I encourage any other women out there interested in engineering to go for it – it's such a varied and rewarding job, I'm so pleased I made this choice."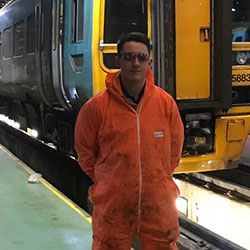 Joshua Lane
Fleet Maintenance Apprentice, Arriva Trains Wales
"I wanted to combine my educational achievements with my personal interests to get an apprenticeship that not only furthered my education but also gave me a great starting point to my career. The engineering sector is a fantastic area to gain an apprenticeship in as there are so many opportunities that can help maximise your potential."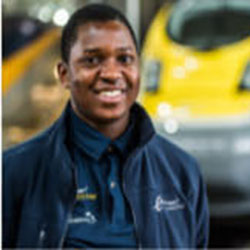 Dennis Pasipanodya
Apprentice Engineer, Eurostar International Ltd
"There's so much still to learn and so many new opportunities within a really friendly environment. It's easy to see why so many people have worked at Eurostar for more than 20 years.
Take the chance. It's a win‐win situation, if you're stronger in theory you get to perfect that area at college whilst also strengthening your practical expertise on the job, and vice versa."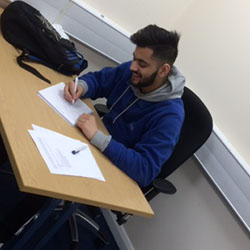 Tajinder Assi
Engineer, Chiltern Railways
"The reason I chose the railway as my industry of choice is that I believe the skills needed to be a good technician would challenge me to become a good all-round engineer. As this job varies in all fields such as mechanically, electrically and overall hand skills.
The main thing I love about my role is that I get to work with people with vast amount of experience. This could be people with 30+ years in the railway to people who worked all around the world as engineers. This gives the chance to learn so much and understand and appreciate the skills I have to learn to become an accomplished engineer. A day as a railway apprentice is a very exciting and interesting thing. Not only are the hours very good we work, we are always doing something different and refreshing. As the trains can bring up different problems that we have to overcome and learn about. So, I can promise you won't get bored here."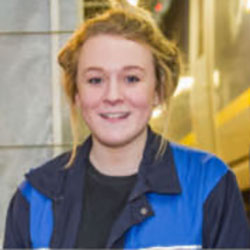 Victoria Myall
Apprentice Engineer, Eurostar International Ltd
"It's the best of both worlds – continuing to boost your learning whilst also getting paid for real on the job experience.
Everyone at Eurostar is incredibly supportive, and I have the same equal opportunities as the rest of the team. I have one more year left of my apprenticeship scheme, but I have no doubt that I want to stay at Eurostar and continue my career with the company.
Working on the new trains has been a huge challenge as they are so different to the existing fleet – there are far more electrical components to service. We're very lucky to get so much exposure to such a complex and innovative train during our training ‐ it really accelerates our learning."